Remember the Cabbage Patch dolls craze? I still feel nostalgia when I think of the holiday-mania of the 1980s when our parents lined up outside the Sears in the hopes of scoring one of those wide-eyed dolls to nestle beneath the tree.
I was reminded of that furor last Christmas when, here in New Brunswick, a similar mania took hold. Picture the Cabbage Patch Kids freakout, just with booze.
No one would have predicted that Chicken Bones Liqueur would have been the region's hottest holiday drink last year.
---
A little primer for anyone outside Atlantic Canada: Chicken Bones, in New Brunswick at Christmas, don't come from fowl. They are oblong, pink, cinnamon-flavoured candies with a chocolate centre that looks—you guessed it—like a little bird bone.
---
Chicken Bones are handmade today, as they have been since 1885, the year our beloved local chocolatier Ganong put them into production. And they're good, I guess. Some people claim to love them.
But, to me, Chicken Bones aren't really about taste. They're about tradition.
My mother ships them to a childhood friend in Ontario every year. I buy them and then eat maybe two, tops. Along with a fir tree, lobster bisque and a house full of cousins, this is Christmas. It doesn't get much more local or unique than that.
So when Moonshine Creek, a small local distillery, got the genius idea to make a limited-edition holiday tipple flavoured with the candy, the province went wild for its liquid nostalgia.
Small, traditional, local and seasonal: all the ingredients for a micro mania. The first batch sold out in hours. There were Kijiji ads for bottles reselling for $500.
Understanding a good thing when they had it, the distillery had a second batch in the works within days.
The lines were so long and the demand so great, the story made the national news as hundreds of people waited for hours for the liquor stores to open. Among those patient people waiting in line was my sweet father-in-law, who got his mitts on three of the last eight bottles at his local outlet. He was kind enough to gift one to us.
Throughout the holidays, we pulled the bottle out, pouring a nip for friends and family. It was like flaunting a bottle of Dom Perignon for special guests—New Brunswick-style.
BE THE CHICKEN BONES LIQUEUR
All the brouhaha got me thinking about the power of nostalgia for your business.
People love to connect with the way things used to be, and that's particularly true this year when COVID lockdowns have us contemplating a very quiet Christmas. Our traditions give us stability and comfort, especially when things feel so uncertain and scary.
It's golden for businesses to give your customers a taste (literal or figurative) of a simpler time. Here are a few takeaways from the Chicken Bones Liqueur craze you can use in your content marketing today:
Share archival images from your brand or company.
Don't worry if you haven't been around since the 1800s, like Ganong. Even the early 2000s look quaint by now. Heck, even last year, when we could leave the house without a mask to partake of parties, parades and pubs, feels like another lifetime ago.
Drag out the old company photo album and craft some social media posts looking back.
Share a story about an enduring value.
What does your brand prioritize?
Quality?
Sustainability?
Community?
Share with people the values that have brought your company from its early beginnings to its most recent success. Share an old story showing this value in action from the old days.
Highlight an important figure from your company's past.
Who stands out? Why? How did they impact the growth and success of your company?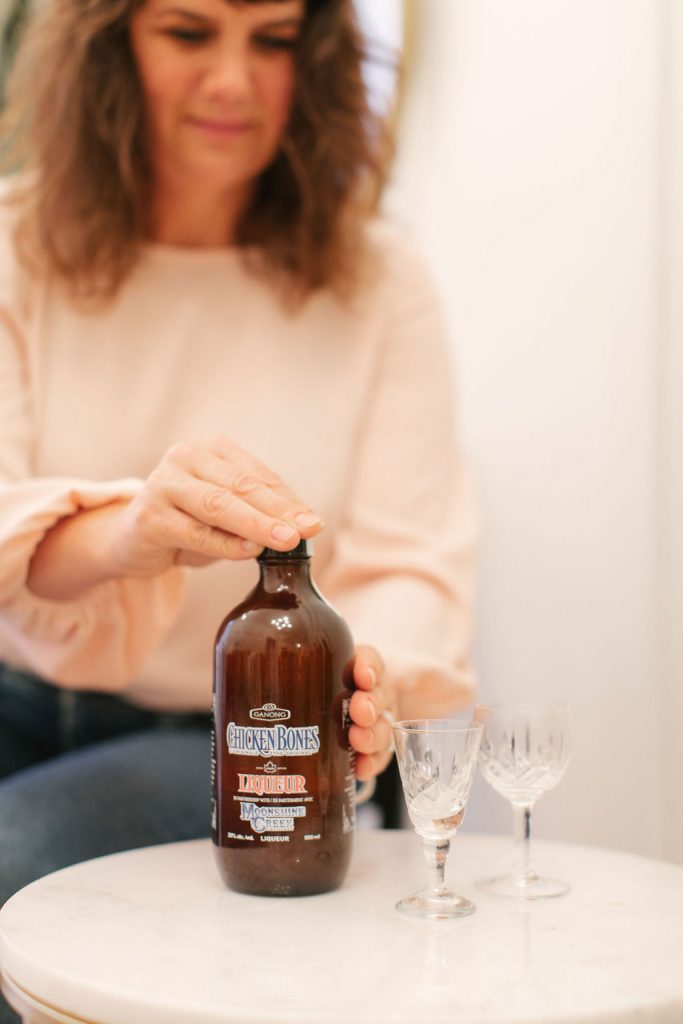 Gather oral histories of your company and brand.
Interview staff members, founders, customers and stakeholders to gather stories and memories. These are great fodder for blog posts, social media posts and even maybe a future ad campaign.
Or you could invite customers to share memories or stories. Leverage social media to create some buzz around your customers' memories to build up your brand.
Mark anniversaries and significant milestones.
Use them as an opportunity to look back.
Hashtag it with Throwback Thursday (#TBT) and #WayBackWednesday.
Share an image of an old logo—ditto icons, packaging and marketing materials from the good old days.
And remember: scarcity is prosperity.
If you're launching a nostalgia product or reviving a throwback, limit it. Then brace for the stampede.
What's something that brings you back to a better time that you could leverage for your business?