When it comes to increasing traffic to your website or blog or adding subscribers to your email list, you probably focus on creating more content. So, you keep notebooks, voice memos and sticky notes to capture your ideas, and spend hours drafting and editing until it's ready to go live.
Then you hit publish and move on to the next piece. The next post. The next newsletter. It's exhausting.
So stop the production treadmill. Shift your efforts to distribution to increase the impact of your content, and with less effort than constantly writing.
Share your content—again and again.
Content distribution is probably the most neglected part of the content lifecycle.
Too many business owners and marketing teams hit the writing wall trying to create new and better content for their platforms. This is a sure path to burnout.
I want to help you avoid this mistake! And better distribution is the key. You should spend at least as much time sharing and promoting your posts as you do writing them, if not more. Your most compelling, well-crafted post shared once (or in a limited release) is practically worthless. I'll go so far to say you probably would have been better off not doing it at all.
Even a mediocre post, shared widely, is worth much more.
Get off the content-creation treadmill and distribute what you've already got.
So, continuing in my recent vein of efficiency, of minimizing inputs to maximize impacts, here are some ways to pump up your content distribution strategy, even if you're a team of one.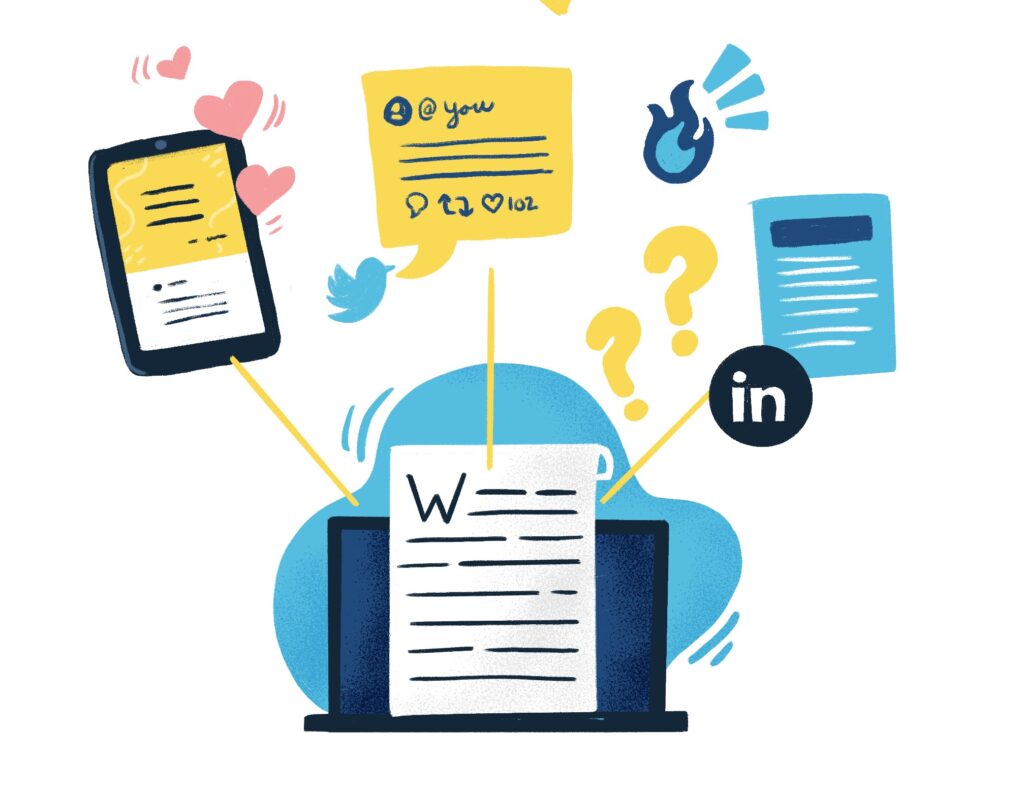 Break it Down for Parts:
Take that blog post or podcast episode or video and mine it for little content nuggets. Along with your regular sharing-to-social distribution, try this:
Use the headline as a tweet.
Make text cards for social with some of your best lines.
Pose questions relating to your subject.
Use images or direct quotes for Instagram and Facebook posts.
Use emojis.
Tailor the post to the platform: what works on Instagram might not resonate on LinkedIn. And don't forget to tag any people or brands you mention in the post or show.

Don't Ignore LinkedIn:
Sure, it's the least fun, least pretty platform, but it's where the deciders hang out.
Plus, the vacuum of good content is a niche your good stuff can fill. Share your post as an article, and link back to your site. Got an email list? Add a link to your sign-up page, too.
Use Video:
It's catnip to algorithms and audience members. Don't worry about ring lights, tripods, and editing software. Shoot a friendly handheld quickie telling people what your post or content is about.
Don't tinker, don't overthink it, just share it.
Email Your List:
Don't rely solely on social media to promote your posts. The platforms own your followers and control access and exposure with their opaque algorithms.
It's easy to get distracted chasing shiny new followers and neglecting the faithful you've already got. Don't forget to share with your most avid followers by crafting an email for your list about your latest content.
And in your email, ask your followers to share and comment on your post. Hey, they already subscribe to your list, so they're likely fans.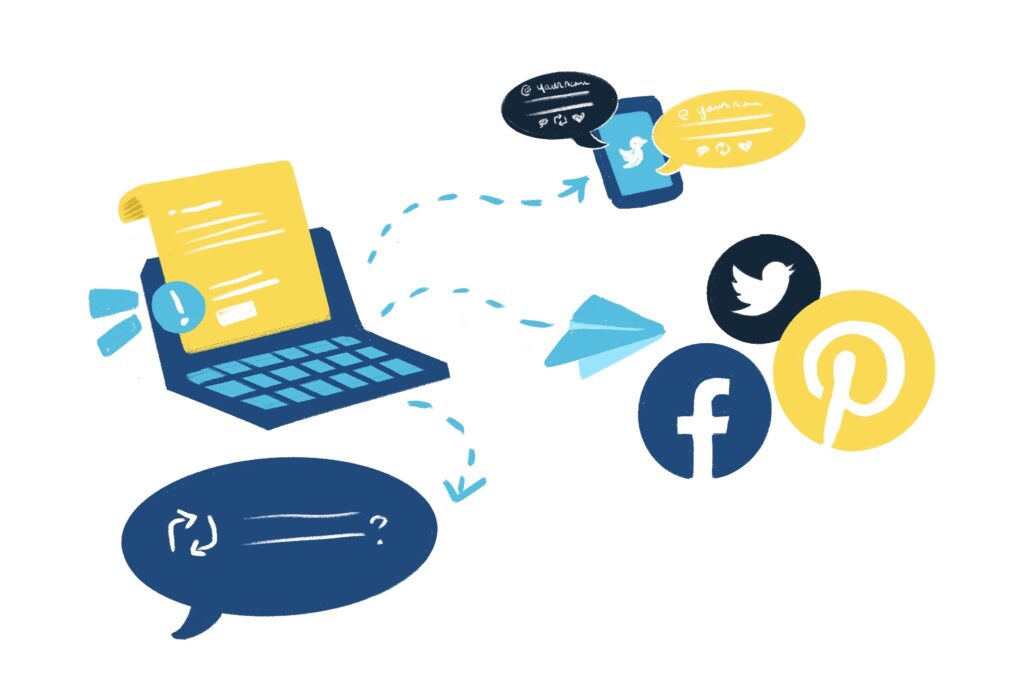 Leverage Your Outbox:
Even if you don't have an email list and your social media's gone dark from neglect, email doesn't quit. We all send dozens, if not hundreds, of emails a day.
Use this prime communications channel to promote your work by:
Adding a button for them to subscribe to your list.
Using a P.S. with a compelling call-to-action linking to your post or content.
A/B Test:
When you wrote your blog post or show notes or script or whatever, what were some of the headlines that fell on the cutting room floor? Try them out as social media captions, and see what performs.
Encourage Sharing:
One of the best ways to build your profile, reach new eyeballs and grow your subscriber list is to encourage your readers and followers to share your post on their social media.
All the major blogging platforms have simple plugins that make it easy for your followers to share the whole post (as with a social sharing button). And a "Click To Tweet" widget lets them share a quote or idea.
Work Your Network:
Think of five to 10 people – clients, colleagues, friends, peers – who might enjoy your content. Reach out and ask them to read, comment, and like and share if it resonates with them. You can also create a peer support network with other bloggers and content creators to share each other's work.
Just remember: You have to be willing to return the favour when they have something to share. Choose only those whose work is relevant and appropriate to your audience.
Be Responsive to Engagement:
Writing and sharing the post is not enough. It's like gardening: You don't just pop the seeds in the ground and expect a bumper harvest.
You must tend to your post, which means responding to comments, questions, shout-outs and shares.
And this engagement is gold. From the comments, you'll see what your audience cares about.
Give yourself some space to grow your traffic
As disappointing as it is to publish a piece of content and get crickets, it can also be overwhelming to try to do everything at once. It's important not to take on too much at once, so I've had my team create this infographic for you to keep handy for the next time you hit publish.
Are there any distribution tricks I missed? Comment below with your favourite way to share content with your audience so we can all keep growing together.