I just launched my new website, and the project reminded me what a big project creating a website is. I've worked on many custom sites for clients over the years, and the months-long creative and development process has an apt analogy in pregnancy and labour. The difference between having a baby and launching a new site? In the latter's case, by the time it's done, you're done with it and never want to look at the damn thing again. Infants, meanwhile, refuse to be ignored.
But please: do not ignore your website.
Once a season, or at least once a year, have a look. Go on, do it. Relevance is an essential element of good copy. That heading you or your copywriter wrote a couple of years ago may not cut it anymore. Or maybe it's still perfect after all these years. But if you don't look, you won't know.
And things change. Your business, your offerings, your brand, your prices, your products, your values.
Also, the world changes. Major social movements like Black Lives Matter, #metoo, never mind COVID have rapidly remade our lives. You want to make sure your messaging still reflects your brand in this shifting context.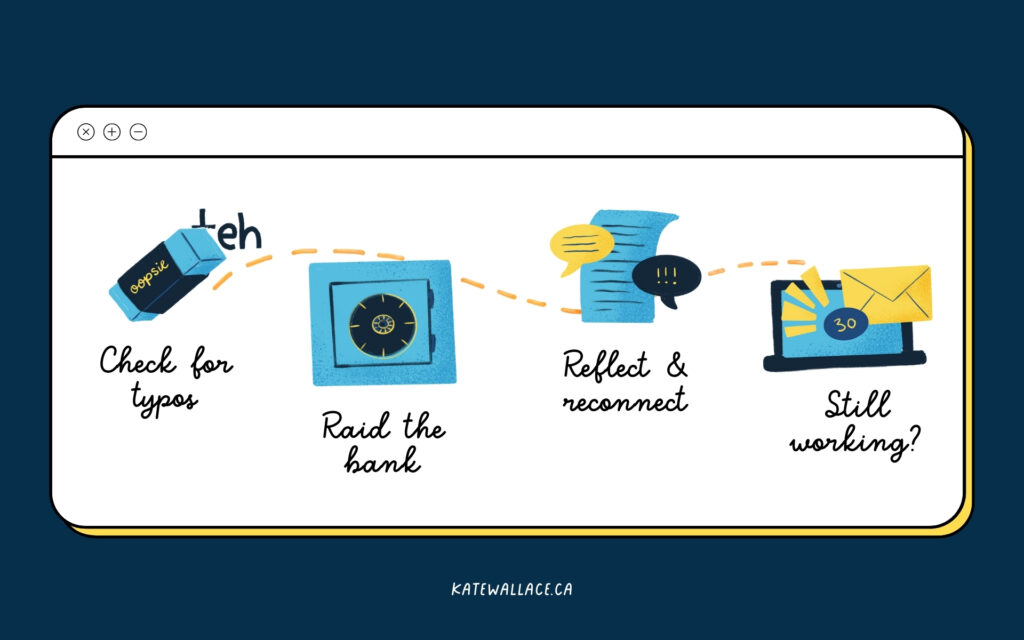 Along with revisiting foundational messaging to see if it still resonates, this review is an excellent chance to:
Find & fix embarrassing mistakes. Cause, hey, typos happen.
Find ideas for content. If you have a blog or other content, you have a story bank to raid.
Reflect and reconnect: Look at your brand through your customer's eyes.
Assess whether your website's still working for you.
If you review your entire website and decide that everything is still on point, at the very least you'll be able to continue to send people to your website with confidence that your copy is doing the hard lifting for your business.
If you're still not 100% sure what to look for when reviewing your site, click here to grab your gratis DIY self-assessment checklist. It focuses on the five key elements of good copy, with a shortlist of 10 yes/no questions to see if and where you need to freshen things up.
Kate