big personality, big brand voice
copy to Attract ideal, customers, drive bookings, and establish credibility.
Shauna Cole is an HR consultant and coach with a distinct voice, perspective and offerings, including diversity-focused training and public speaking on Black Lives Matter.  
She brings a delighfully contemporary vibe to a traditionally buttoned-up industry, using both her experience in the corporate world and her personal life to offer a modern and timely alternative for HR coaching and consulting.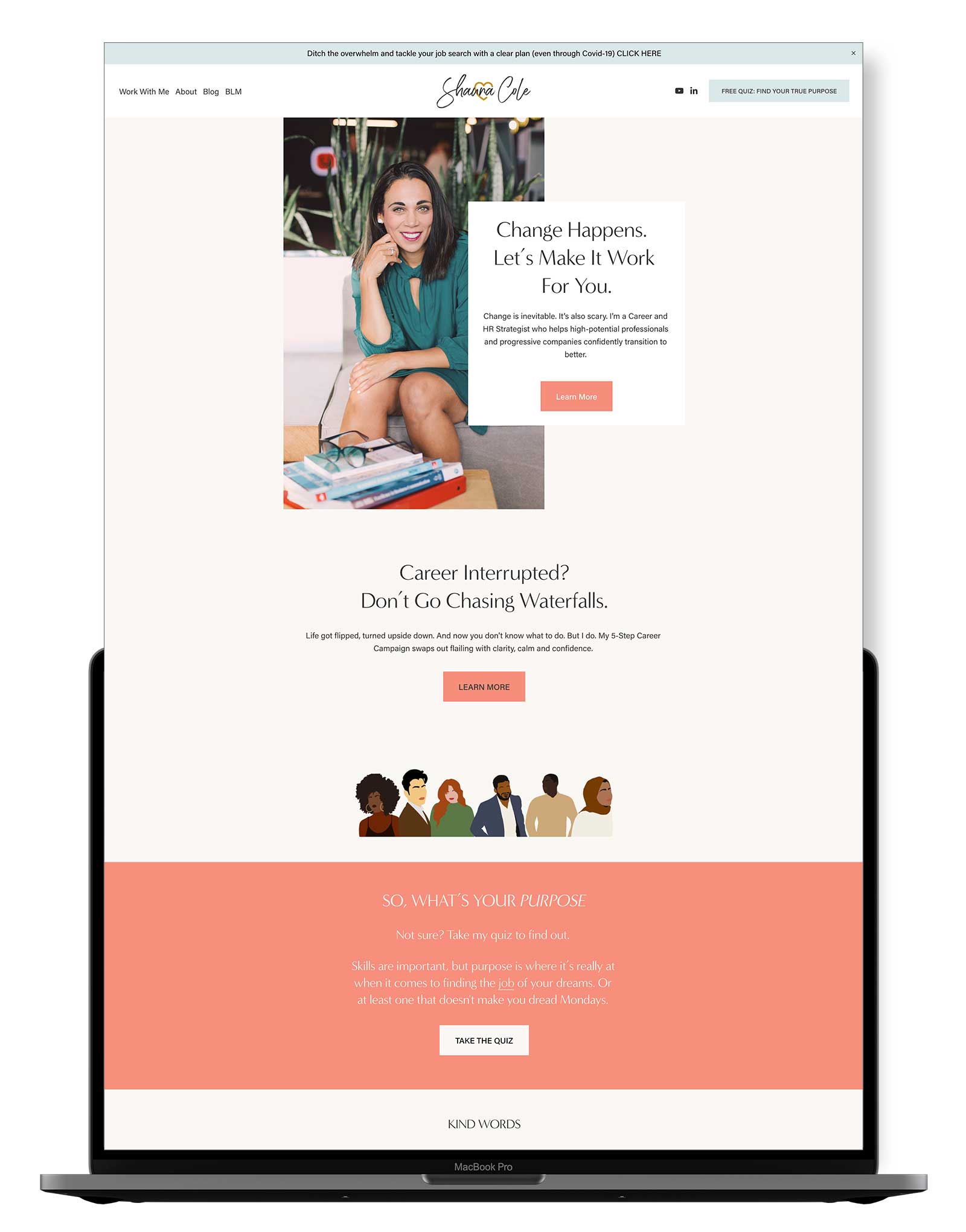 articulating Business and personal values in one brand
The Challenge
Shauna wanted to attract new customers, drive client bookings and establish credibility. It was essential to her to avoid a generic "girl boss" vocabulary and tone in her new site. Instead, she opted for something thoughtful and true to her personality. 
When it came to the copy, I needed to make sure we were articulating her personal values along with the value provided by her services all under a single, unified brand voice.
Best of all? It had to be a wee bit fun.  
The Solution
Aiming for big personality and catchy phrasing, I drew on Shauna's particular experiences and tastes. During the discovery phase of our process she provided a list of words, ideas and elements that felt authentic to her. This list and a couple of deep-dive interviews led to the personality-rich copy that sets her site apart.
Her fresh new website establishes her brand voice and taglines for use across her marketing and social media. The snappy copy balances professionalism and personality, mixing references to 90's R&B, tap dancing, and family life with Shauna's impressive credentials.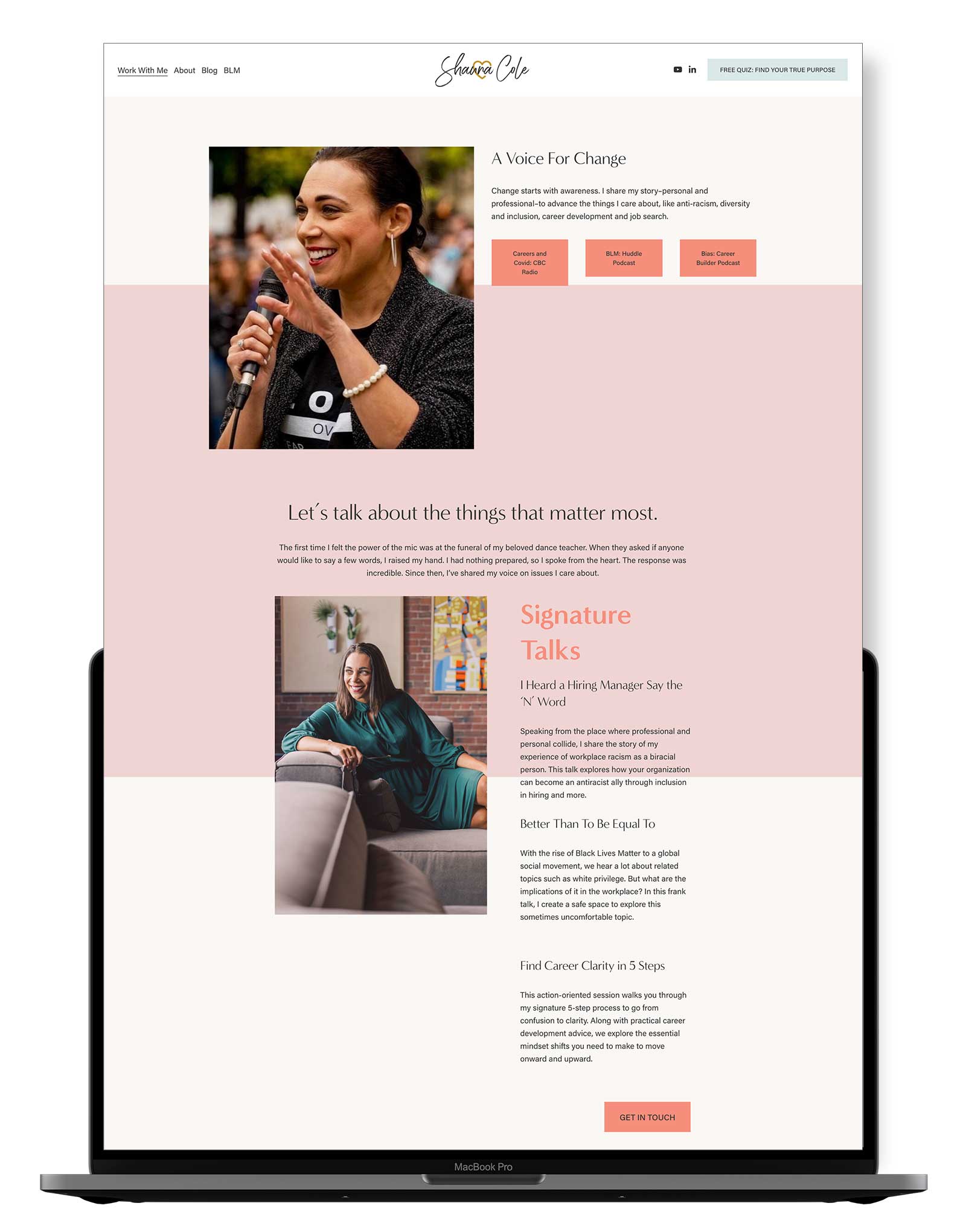 Shauna and I had two deep-dive calls during our project, helping me bring her life experiences and personality into her brand voice. With Zoom recordings full of information, I was able to gather inspiration from what really excites her about her profession and clients.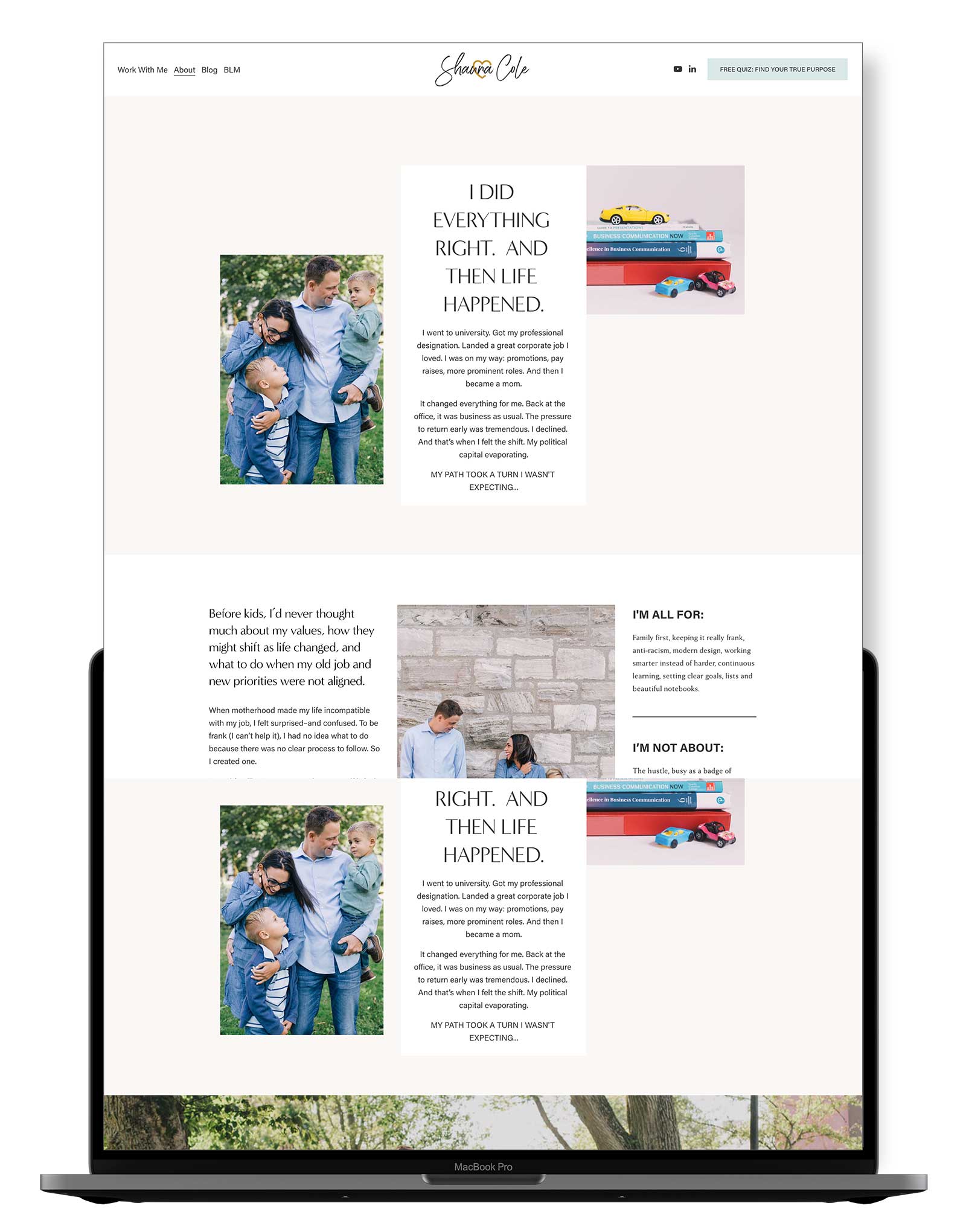 Our fruitful research and discovery phase led to a smooth writing process, with only minimal edits required to get from first to finished draft.  The result? A strong, snappy brand voice that sounds just like Shauna. Check it in all its glory on her website.
"Kate delivered copy that sounds just like me. "
 Working with Kate was a breeze.  
We got to know each other over a couple of calls and from there she put together messaging that I had been trying to articulate for the past two years.  I hesitated to hire a copywriter because I'm a decent writer myself.  When it came to writing about my own offers I was struggling because I was too close to all of it.  
I have no regrets and found immense value is getting a new perspective on my messaging.  Plus, she's lots of fun and takes a positive, collaborative approach to her work. "
SHAUNA COLE, FOUNDER & CEO 
Book a call