client goal
establish a unique brand identity in a crowded market
Explosive Branding is an ambitious player in a competitive and crowded market: Amazon brand management. The U.S.-based company wanted to differentiate itself with a new website featuring bold, playful design and distinct and playful branded copy. The goal: attract more Amazon store owners who needed help. The warm, welcoming, stylish site gives visitors a sense of ease, builds confidence in the brand and stands out.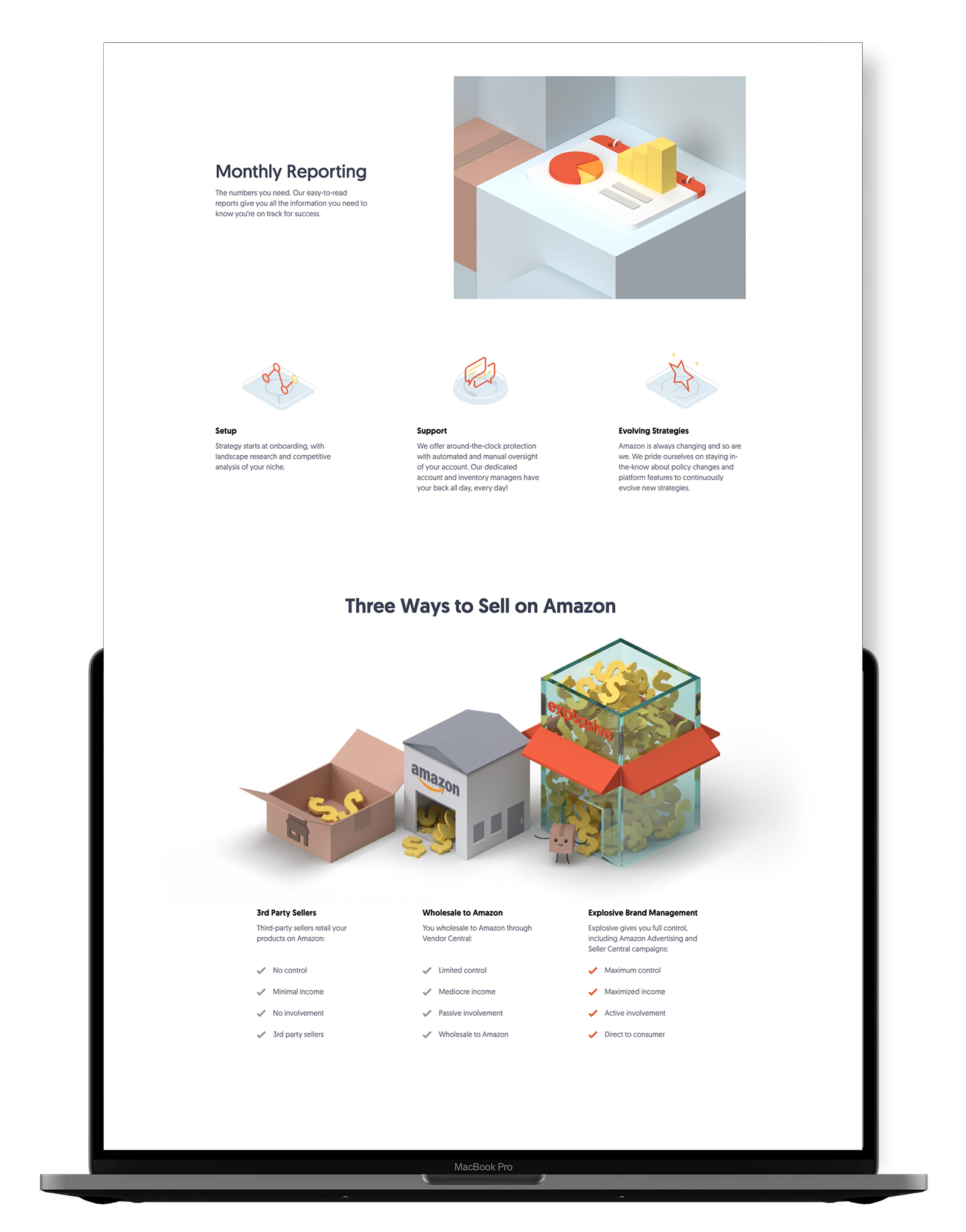 Bringing explosive personality to their branding
The Challenge
Explosive's marketing department had a big vision, but lacked in-house design and copywriting talent to bring it to life. The client provided lots of ideas and inspiration, but needed help figuring out what makes its company unique. The marketing lead had written the copy on the company's former website, and knew it wasn't good enough.
 Working in tandem with Orange Sprocket, which did the design and development, I dug into writing SEO-rich and distinctly branded copy that would provide a cohesive brand experience.
The Solution
The project started with an extensive discovery process that included conversations with Explosive's founder and CEO, as well as key team members, to learn what makes it unique, drill down into audience, and understand the industry. Research included reviewing more than a dozen competitor websites and reading numerous articles to grasp the many challenges and complexities of this kind of business. Through ongoing consultation with the client and Orange Sprocket, we delivered a strategic, sales-driven website that offers little moments of happiness and generates leads.

"A brand is the set of expectations, memories, stories and relationships that, taken together, account for a consumer's decision to choose one product or service over another."
Let's Chat
Want to bring your brand to life with new copywriting that hits the mark with your target audience? It all starts with a free consultation to scope out your needs. Click here to get started. 
Book a call